Hello again from the Bitcoin Today Coalition! For all of you from the US, we hope you had a Happy Thanksgiving and are looking forward to more holidays ahead. As we prepare to close out 2022, here's what our Board members have been up to in November…
As promised, board member Jimmy Song was a featured speaker at the Sats Conference in Sao Paulo and at the 10th Anniversary Latin American Bitcoin in Buenos Aries. At LABITCONF, he also appeared in a panel discussion about the FTX collapse when things took an interesting turn.
If you haven't heard about Jimmy's epic takedown yet, you can watch it here. Fair warning… make some popcorn first.
November was a big month for our Board Chair, Amanda Cavaleri as well.
First, Amanda joined Hailey Lennon, Matt Pines, and BTC Board President, CJ Wilson on stage at Pacific Bitcoin for a panel titled Will Government Regulate Bitcoin into the Ground? Watch here and skip to minute 45:20 through 1:10:15 to hear their discussion.
The following week, Amanda contributed to the Digital Assets Policy discussion at the Texas Blockchain Summit.
And she joined Galaxy Digital's @bitcoinbeezy and Bitfarms' @hashoveride for a whirlwind tour of DC legislators' offices. In 21 meetings over 3 days, Amanda and the guys spoke to Senate and House staffers from both parties about the positive impacts bitcoin mining brings to domestic energy strategies.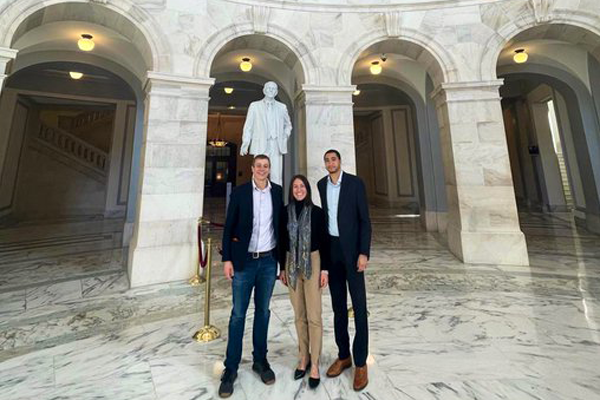 And in hugely exciting news, bitcoin mining company, CleanSpark, Inc. announced Amanda's appointment to its Board of Directors.
"Amanda brings an extraordinary skillset to our board as one of the most thoughtful voices and contributors in the Bitcoin community right now. I'm excited to welcome Amanda to the CleanSpark team as a member of our board of directors." ~ CleanSpark CEO, Zach Bradford
Congratulations to both CleanSpark and Amanda on this outstanding new partnership.
That's it for our November update. As always, you can stay in touch through our Twitter and LinkedIn pages. And if you'd like to support us in our mission, you can donate here, or just click the orange Donate button on any page on our website.
If you'd like to get involved and reach out to your own representatives, we make it easy for you to do that on our website too. Just head over to our Get Engaged page, where you'll find templates and links to message your Senators and Representative directly.
Thank you again for your support. We'll be back next month with another exciting update about how the Bitcoin Today Coalition is helping to orange-pill a nation (and beyond).