Greetings once again from the Bitcoin Today Coalition! As temperatures cool and we turn our attention to the upcoming elections, here's what we were up to in late August and September.
If you missed board member Jimmy Song at Bit Block Boom in Austin, no worries, you can catch the recording right here. Just fast forward to 1:04:10 on the timer to see Jimmy chat about what he calls Fiat Delenda Est. There's even a Q&A at the end.
And if you're a fan of the topic, don't miss Jimmy's talk at Baltic HoneyBadger in Riga about fiat money and its immoral incentives.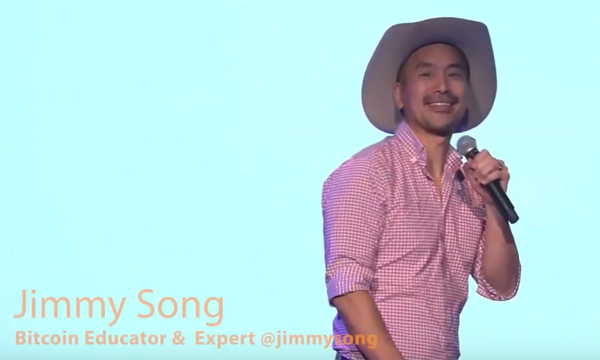 In fact, Jimmy's on a bit of a speaking and traveling tour these days. He's scheduled to give one of the keynote addresses at the Plan B conference in Lugano, Switzerland in late October. After that, you can catch him at the Sats Conference in Sao Paulo, Brazil. Then he'll be speaking at the Latin-American Bitcoin Conference in Buenos Aires, Argentina.
And Jimmy's not the only one on the move…
Following up on last month's update… unfortunately, board member Robert Malka's fireside chat at the Wyoming Blockchain Stampede had to be canceled. But he did get to present public testimony before the Wyoming Select Committee on Blockchain, Financial Technology, and Digital Innovation Technology on September 19. You can check out his brief statement about including bitcoin in financial literacy education standards here. Fast forward to 16:30 to listen in.
Also in September, Rob spent a week in Washington DC speaking with legislative staff members about a wide range of bitcoin-positive topics. That's seven more voting members of Congress on their way to understanding how bitcoin can positively impact sound monetary properties, financial inclusion, energy grid stability, national security, and more.
If you'd like to get involved and reach out to your own representatives, we make it easy for you to do that on our website. Just head over to our Get Engaged page, where you'll find templates and links to help you message your Senators and Representative directly.
Next up… If you happen to be heading to Pacific Bitcoin in Santa Monica in November, don't miss out. Both our Board Chair, Amanda Cavaleri, and Board President, CJ Wilson, are slated to be speakers.
That's it for our September update. As always, you can stay in touch through our Twitter and LinkedIn pages. And if you'd like to support us in our mission, you can donate here, or just click the orange Donate button on any page on our website.
Thank you again for your support. We'll be back next month with another exciting update about how the Bitcoin Today Coalition is helping to orange-pill a nation (and beyond).